Craigslist Phoenix
Craigslist is one of the most powerful online classifieds sites. They basically took the traditional boring newspaper classifieds approach and put it online with no design or website change since 1995.
The beauty of Craigslist is it's usually the one of the top 5 local sites in each major metro of the US and WAS for the most part FREE!
For example, as a local SEO Company in Phoenix, AZ we did our research and found out that Craigslist is one of the most authoritative and most visited sites in Phoenix, Arizona per Alexa an Amazon company even more than AZ Central!
For a long time the only thing Craigslist charged fees for was for employers that need to post their local jobs and their fees for that ranging in the $7-$75 which is still a lot less then the national job boards but close to the value of a niche job board like JobsinSocialMedia.com that caters to only Social Media Jobs and job postings.
Now as of today, March 16th logging in to a 10+ year old craigslist account we had for our local clients we help with SEO services and managing and tracking their Google Adwords and Pay per click campaigns we just noticed Craigslist is charging $5.00 for 30 days.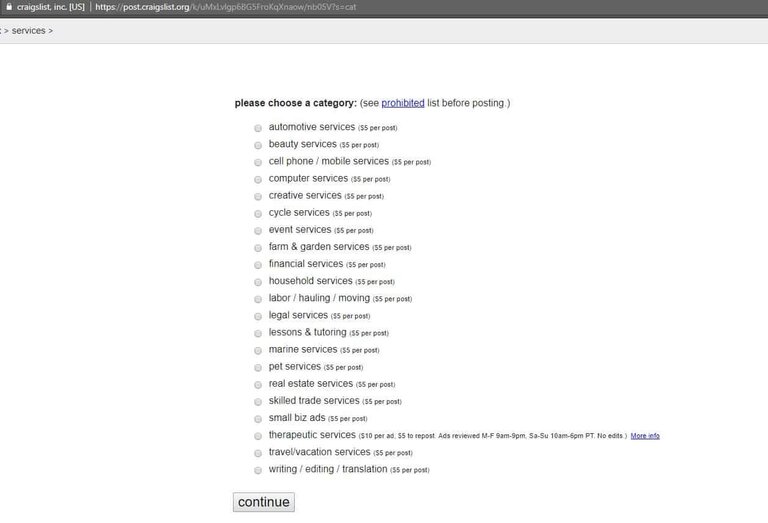 We know this is a big deal and people are going to start searching about Craigslist charging local service businesses ranging from auto repair to all types of contractors from plumbers to roofers and more
Many, like you are going to search about this and see what happened and ask, "When did Craigslist start charging", why, how much, for how long ect..?…
Lots of questions are going to come up about Craigslist charging fees for service ads and before you start to worry let's break down the pros and cons and share an alternative to Craigslist ads if you are going to stop using their platform because of the fees to post service ads.
(Reminds us of Facebook organic, get everyone on there then charge them for ads….copying Google's model for shareholders and stock price)
Craigslist Charging Pros
Stops spam
Stops people that were just auto botting ads over and over and spamming the site making people stop using it (consumers and service providers)
Ups the quality of service providers willing to pay and actually have a marketing budget
Still it's only $5.00 for 30 days.. Yes, FREE was great but $5.00 per service ad for 30 days? on a site that ranks top 5 most trafficked sites in each local metro area?
Still tons of free sections of craigslist
Consumers will be protected more and be less spammed
Less competition, as service providers stop posting because of the 5.00 fee per ad
Higher quality service providers, I know we said this already just making sure you are still reading ;0)
Filters better small business owners willing to invest and have a marketing budget for their business to grow
Craigslist Charging Cons (not sure there really is any…)
Can't bot, spam, have 100 ads with the same title in caps (lol, some of you know what I'm talking about)
Makes you realize you need more marketing dollars towards other platforms where you can get leads (Google)
More than free…
Can't get an extra 20-30 leads a month for FREE, sorry going to cost you at least $5.00 per ad for 30 days
No More renewing ads to keep them fresh (however, people will drop off and not even pay the $5.00 per service ad on craigslist)
Craigslist Alternatives
If you are looking for a Craigslist online classifieds alternative vs. marketing and advertising your local small service business overall we used this tool to give you some sites to check out. You have to keep in mind they don't have the same amount of traffic and some still charge for certain sections like backpage or are niche for job posting only like Indeed.
However, here is a screenshot a link to the tool you can use to see it as well.
What should you do now that Craigslist is Charging fees for Service ads?
Still use it, $5.00 an ad for 30 days is still a great value
Realize things change all the time with the online space and don't put your eggs all in the Craigslist basket
Use SEO to optimize your website to rank for what you do and where you do it to get leads from Google
Use Google Adwords and set up a pay per click budget campaign with a professional PPC management consultant or company like ours. (We include a landing page and call tracking)
Use content marketing, or hire someone like our company to blog on your website to right useful content like this post as an example that is relevant to your industry, helps people out, makes them think, answers a frequently asked question and will rank on Google for everyone searching for that same question … evergreen…
Need help with your local marketing using some of these strategies?
Have at least $1k per month minimum budget to start on one of these local internet marketing strategies (SEO, PPC, Blogging…) to get results?
Call our team at 888-863-7421 and provide your current website url so we can provide you a FREE report and share with you if we think we can help you or not.